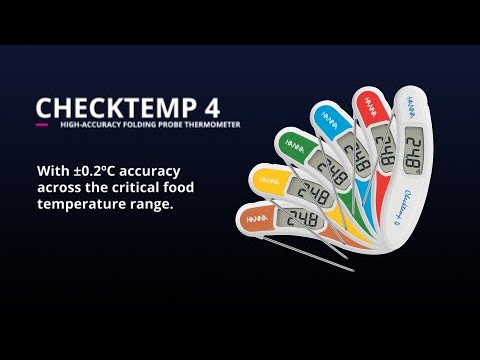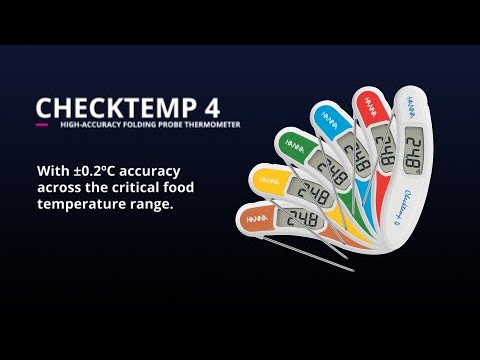 HI-151-1 Checktemp4® High accuracy red folding thermometer
In Stock 33 Items available
HI-151-1
Checktemp®4 offers unparalleled accuracy compared with any folding probe thermometer on the market with ±0.2ºC accuracy across the critical food temperature range, coupled with a versatile wide range of -50 to +300 ºC, making it ideal for anything from frozen foods to hot cooking oil.
Outstanding accuracy: ±0.2°C
Full Description
Specification
Manuals
Product Literature
Print Page
Full Description
Specification
Manuals
Product Literature
HI-151-1 High accuracy red folding thermometer for raw meat - Checktemp4®
Available in a range of 6 colours and fully tested and approved to the EN13485 European standard, setting a new standard for folding probe thermometers, our Checktemp®4 is used by professional chefs, home cooks and the food industry.
Across the UK, bake, broil, grill or fry to your heart's content, while rest assured your food temperature is always accurate.
Our unique Cal-Check technology ensures circuit calibration every time the thermometer is turned on.
Best accuracy of any folding probe thermometer with ±0.2 ºC
Tested and approved to European standard EN13485
Fully waterproof to IP67 and floats for easy retrieval
Display configurable in °C or °F
Configurable motion sensor sleep/wakeup mode
Food grade Stainless Steel foldable Probe
Food Thermometer
The Hanna Checktemp®4 features a foldaway probe which is safely housed within the thermometer body when not in use and automatically switches on the thermometer when unfolded.
Hanna Cal-Check technology ensures the thermometer circuit is checked for accuracy every time the thermometer is turned on, and displays the result on the large digital display giving peace of mind that readings are accurate and true.
With a wide temperature range of -50 to +300 and a 0.1 resolution, the Hanna Checktemp®4 offers the best accuracy of any folding probe thermometer across the critical food temperature range, providing results to an amazing accuracy of +/-0.2C. You can choose to configure your Checktemp®4 to display in Fahrenheit, if you prefer, and will then be provided with a range of -58 to +572F with an accuracy of +/-0.8F across the critical food temperature range.
To save battery life, Checktemp®4 will automatically power off and enter a sleep mode after a timed interval which is uniquely user configurable from 1 min, 2 mins (default), 8 mins, 60 mins, or you can even disable this feature if you prefer. Only the Hanna Checktemp®4 offers you the choice! A built in motion sensor automatically 'wakes' the meter and switches it on as soon as you next pick it up, so it's always ready to take your next food temperature.
Unlike some folding probe thermometers which are splashproof to IP66, the Checktemp®4 is fully waterproof to IP67, which means it can be washed under the tap or even immersed in liquid, and just in case you accidentally drop it in the washing up bowl - it even floats to aid retrieval.
Additionally, the Checktemp®4 features unique silicon grips on both the front and the back of the thermometer casing to make it much easier to hold, less likely to drop, and to facilitate a secure 'hold' when put down on slippery surfaces, such as wet or greasy stainless steel kitchens, as found in professional kitchen preparation areas.
Every Checktemp®4 is supplied complete with batteries which offer a minimum life expectancy of 4000 hours. A low battery icon in the thermometer display will alert you, and give you plenty of notice, when the batteries need replacing and we've designed the Checktemp®4 so that you don't need to find a screwdriver to open the battery compartment, as we understand how frustrating it is to have to find one, especially in a busy kitchen.
A fast response Ø3 x 103mm food grade stainless steel probe is neatly folded back into the body of the Checktemp®4 when not in use, making it easy to carry in a pocket and ready for use as soon as the probe is unfolded. Checktemp®4 is one of the fastest folding food thermometers you can buy with temperature response times as fast as 3 seconds.
Choose from 6 colours (these reflect the HACCP regulations), whichever colour you choose, all Checktemp®4 thermometers can be used for all types of food and at all temperatures. The list below is simply the HACCP guidance as to what colours should be used in different food categories to ensure no food cross-contamination occurs.
HI-151-1 – red – raw meat
These colour guidelines are for the food industry in particular and as we say, you can use any colour Checktemp®4 for any food temperature, so if you're buying for home and just want an all-purpose food thermometer, then choose the colour you like and just make sure you clean the probe between measurements. We even supply food wipes to make this as easy as possible.
Read More
Temperature
 Range
-50.0 to 300°C / -58.0 to 572.0°F
 Resolution
0.1°C (-50.0 to 199.9°C)
1.0°C (200.0 to 300.0°C)
0.1°F (-58.0 to 199.9°F)
1.0°F (200.0 to 572.0°F)
 Accuracy
±0.2°C (-30.0 to 170.0°C
±0.4°C (-50.0 to 30.0°C)
±0.4°C (170.0 to 199.9°C
±1.0°C ±1 digit (200.0 to 300.0°C)
±0.8°F (-58.0 to -22.0°F);
±0.4° (-22.0 to 199.9°F)
±1.0°F (200.0 to 392.0°F)
±2.0°F ±1 digit (392.0 to 572.0°F)
 Calibration
Factory Calibrated
Probe
Stainless steel probe with penetration tip; 103 x 3mm (diameter)
Battery type/life
CR2032 Li-ion (2) / approx.. 4000 hours of continuous use
Auto -off
1 min, 2 min (default), 8 min, 60 min or always on
Environment
-30.0 to 50.0°C (32.0 to 122.0°F)
Case ingress protection rating
IP67, floating case
Dimensions
165 x 45 x 24mm
Weight
85g
Ordering information
Temperature testers are supplied with batteries, quality certificate and instruction manual
Similar Products